This is what I remember most about 2dtoys; when I was about 10 and he was about 7, he wanted me to draw him Voltes V. I refused for whatever reason. His mom (my aunt) told me to be more accommodating being that I was the elder. Against my will I proceeded to draw. As I was about to put pen to paper, he made a fighting stance: hands up, fists clenched, and with some tears still in his eyes, he made a scowl. "What a brat!", I thought. And then it dawned on me that he was doing the pose he wanted me to draw Voltes V in.
As years went by he and I got close being that he was the only male cousin I had closer to my age. We drew characters and made comic books out of folded blank sheets of paper, stapled along the folded lines. Our characters, and their stupid names (not gonna get into that), are largely laughable. But those were great times.
Fast forward to the future. I have always admired 2dtoys crisp lines whenever he draws. That crispness translated well when he started customizing toys. (Check them out here) 
His popularity grew within certain circles. These days, he is responsible for some of the most beloved GI Joe figures, alongside some of the rarest (if not elusive) Star Wars and Marvel Legends ever to hit the shelves.
Here's an interview I had with the man.
I remember your collection of toys. You have so many! Whatever was it that drove you to customizing instead of just collecting some more? 

Despite the number of toys out there, there's still a number of characters that I love which weren't getting made for whatever reason. So instead of waiting for the chance that toy companies would make them, I decided to customize them myself. Sometimes I'd customize because I didn't like the retail product and wanted something more to my preferences.

Ever had major accidents?

I've cut my fingers plenty with an X-acto as well as burned them with hot wax several times, but thankfully nothing really major.

I heard you made a killing out of customizing. What was the most you made out of a custom? Were there weird requests? Was there ever a commission you turned down?

I wouldn't quite say I've made a killing, The most I've made was $990 or something like that. But that was a one time thing. It was a Snake Eyes custom. Afterwards I finally got a chance to sculpt that character professionally, and I saw it as a chance to do the best I can, and make sure that the buyer was justified in purchasing my work. I get asked for commissions pretty regularly and I have to turn them down 95% of the time because of time issues.

You're now a freelance sculptor in the toy industry, how did that come about?

The short story is that I went to San Diego Comic Con a few years ago. I saw that Hasbro had a portfolio review, I happened to have some pieces to show and they called a few weeks later.

What did you make for Hasbro? Anything you can tell us that's in the pipeline?

I've had the opportunity to work on a number of toys in brands like G.I. Joe, Star Wars, Iron Man 2, Captain America, and the Avengers Movie.

Who among those in the industry did you look up to?
Man there's too much to list. At the top of that list would be people like Dave Vennemeyer and Dave Proctor. Extremely talented people who I've admired and learned alot from.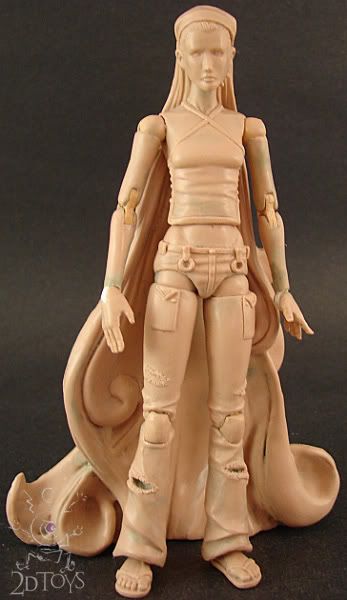 Tips on customizing?
Don't be afraid to make mistakes. Jump in, do what you can, and learn from it afterwards. 
(Thank you to Nico for the Hawkeye pic above. He invites you to check out what's coming up soon in your favorite toy store here)